Looking for online marketing services in Singapore?
Your search ends with the Search Guru.


As an agency that's results-driven, SearchGuru offers a suite of essential online marketing solutions, that we believe every serious marketer will want in their arsenal.

We have solutions that help you target interested users on the search engines to creating awareness and buzz in the social space. We also help analyze your visitors and webpages to squeeze out as many conversions as possible to make every marketing dollar worthwhile.

And when your business grows and difficult customers and competitors bash your brand on the Internet, we'll come to your rescue with our powerful online reputation solution.

---

Although our core expertise are SEO and Google AdWords,
we also offer other online marketing solutions: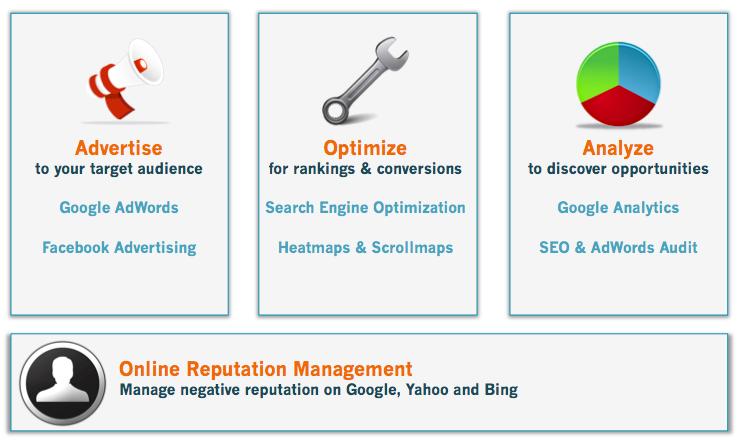 Search Engine Optimization (SEO)
Search engines like Google, Yahoo and Bing receive over 100 billion searches a month. SearchGuru helps you increase your website's presence and visibility on their search results, so that potential customers can find you when they search for related products and services.
> Learn about our SEO Services from S$550/mth


Google AdWords
Advertise on Google's search results and also partner websites like AsiaOne and Hardwarezone, using Google's AdWords platform - pay only when your ads are clicked on! SearchGuru helps you set up, optimize, monitor and manage your AdWords campaigns for a flat monthly fee, regardless of ad spend.
> Learn about our Google AdWords services from S$350/mth


Facebook Ads
Promote your products and services on Facebook, the world's biggest social network, by user location and demographics - pay only when your ads are clicked on! SearchGuru helps you set up, optimize, monitor and manage your Facebook campaigns for a flat monthly fee.


Google Analytics
As the cost per visitor continues to increase, there is an urgent need to study your website's Analytics so that you can squeeze out as many conversions as possible, from your website visitors. SearchGuru helps ensure your Analytics is correctly set up, understand your website visitor, determine weak landing pages, analyze traffic source and campaigns, track your conversions and many more.


Heatmaps & Scrollmaps
This service is an extension of Analytics, where we paste some codes on your website and track where visitors are clicking on and how far they are scrolling down, on specific webpages. This study will help ensure that your most important information and call-to-action elements are within their view.

SEO & AdWords Campaign Audits
Are you managing your website's SEO or your Google AdWords campaigns? Or did you outsource them to an SEO or AdWords agency? SearchGuru's audits helps you determine if you are headed in the right direction, that your ad dollars are not wasted and that your agency know what they are doing.


Online Reputation Management (ORM)
In the course of running your business, you may come across disgruntled customers and competitors whom may bash your brand on the Internet. These content are indexed by and displayed in the search engine results, and there is no way for you to remove them - eventhough they may be fictitious! SearchGuru's ORM service helps you bury these negative content so that potential customers won't find them.


---
| | |
| --- | --- |
| Talk to Us or Request for Our Brochure: | |