SEO Services from S$550 a month. Pay 6-monthly, no contract!
Get better rankings AND more sales leads.


Google receives more than 88,000,000,000 searches a month and 60% of these users are looking for product and service information, prior to buying. SEO let's you reach out to these users by increasing your website's presence and visibility in the search engines.


5 Reasons SearchGuru's SEO Service is Better:

1. Forget Top 10. We Aim for Top 5.
Studies have found that the Top 5 search results on Google receive 75% of the total clicks.

2. Our SEO Methods are Safe, Effective and Sustainable.
Never compromise on quality to save costs. Any penalty is permanent and irreversible.

3. We Focus on Growing Your Sales Leads.
Rankings are useless if they don't bring sales leads. After all, isn't that the point of marketing?!

4. Gain an Unfair Advantage with SearchGuru.
We use powerful custom SEO tools, our private content network and US-based writers.

5. We Are As Transparent As It Gets.
Get detailed monthly SEO reports and even a Client Area, to know where we build your backlinks.

---

No gimmicks, lame excuses or BS.
Our SEO Clients stay with us forever because we deliver.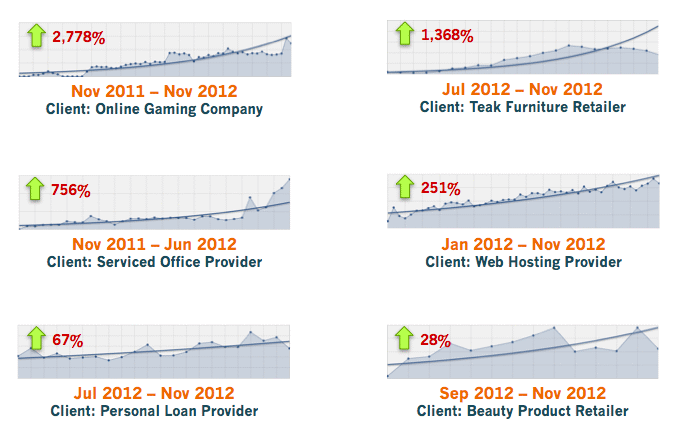 ---

Some of our clients:



---
SearchGuru's SEO Service includes the following:
+ Understand the business, products and services, and marketing goals.
+ Research keywords based on your goals, feedback and target audience.
+ Determine the best keywords based on search volume, commercial value and competition.
+ Evaluate the strength of your Top 5 competitors on the search results.
+ Record preliminary rankings (i.e. baseline).


+ Design an SEO strategy based on the target audience, shortlisted keywords and competition.
+ Perform an SEO health check for the pages on your website and on the search engines.
+ Provide a list of on-page recommendations to address weaknesses and increase relevance.
+ Create and set up Webmaster Tools account.
+ Generate and submit Sitemaps.xml.
+ Set up tracking using Google Analytics.


+ Design a link-building strategy.
+ Scope out the article requirements and send to our U.S.-based writers.
(Note: we do not outsource to India, Vietnam or Philippines. They're much cheaper but quality is an issue)
+ Proof-read, check with Copyscape and submit the articles to blogs and content sites on a scheduled basis.
+ Build more direct links from press release sites, blog comments (manual), social bookmarks, forums, etc.
+ Create multiple layers of backlinks that link to one another, and not only to your website.
+ Generate social signals to increase citations.
+ Get the search engine spiders to crawl and index all the created links.


+ Submit detailed monthly SEO reports that contain Analytics data, SEO data and website rankings.
+ Provide access to a Client Area where you can track your backlinks and other useful data, anytime.
+ Review SEO performance periodically, optimize the campaign further and expand the keywords.

---
Safe, effective and proven SEO services from S$550 a month.
Pay 6-monthly, no setup fee, no contract!